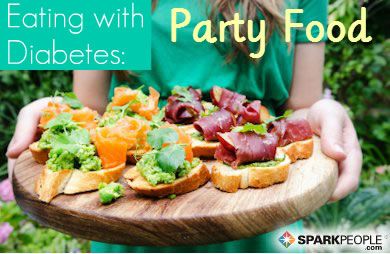 Birthday parties, holidays and other social events provide ample opportunity to relax and have a great time with friends and family. Attending a party when you're trying to lose weight is hard enough; for many people with diabetes, an invitation to a party can be even more stressful. The underlying cause of all the worry is usually not the people or the event itself, but the food. Good food. Food that "a diabetic shouldn't eat." As a result, something that should be fun turns into a reason to panic.

Relax. By planning ahead and applying some smart strategies when making food choices, it is absolutely possible for people with diabetes to live it up at any party or social event (without giving up on your diabetes-management goals).

Planning Ahead
Most people expect to indulge at a party. This is not desirable for anyone who is trying to manage their weight, but it can be especially problematic for people with diabetes since overeating can lead to high blood sugar (hyperglycemia). In the short term, high blood sugar can cause fatigue, nausea, headaches, and a host of other miserable symptoms that will put a damper on your evening. In the long term, high blood sugar damages blood vessels and nerves. This damage, with time, causes the serious complications of diabetes: blindness, kidney failure, amputations, heart attacks, and strokes.
Continued ›
Article created on: 2/18/2011