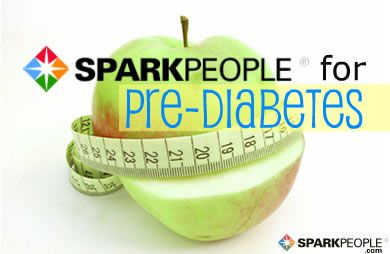 Welcome to SparkPeople, America's most active weight-loss and healthy living website! This article will introduce you to all of the SparkPeople features that can help adults take control of pre-diabetes. Studies have shown that by making healthy changes to your diet and increasing physical activity, you can increase your chances of delaying or preventing the development of type 2 diabetes. We offer a variety of free tools, trackers, articles and support options that can help you achieve success in the lifestyle management program that your doctor, health care provider and/or Certified Diabetes Educator has outlined for you.

SparkPeople can help you with the diet, exercise and weight-loss components of your treatment plan, but please note that our website is no substitute for regular medical care. While certified diabetes educators helped develop these articles and tools, you should follow the treatment guidelines given to you by your doctor and/or certified diabetes educator should you encounter any contradictions to your treatment plan.

About Pre-Diabetes
Before developing the serious health condition of type 2 diabetes, a person will almost always have pre-diabetes. People with pre-diabetes have blood sugar levels that are higher than normal, but the levels are not quite high enough to yield a diagnosis of diabetes. While pre-diabetes in itself isn't necessarily dangerous, many people with pre-diabetes will develop type 2 diabetes within 10 years. Early diagnosis and treatment of pre-diabetes can delay or prevent the development of type 2 diabetes and its serious health consequences.

In our Type 2 Diabetes Condition Center (found under the "Your Health" tab at the top of the site), you'll find dozens of healthy lifestyle articles we created specifically for people with type 2 diabetes and borderline or pre-diabetes, including: What SparkPeople Offers People with Pre-Diabetes More Healthy Lifestyle Tips
Taking control of your health will require some education and commitment, but SparkPeople is here to help you along the way. Our articles, tips and support resources will help you establish a healthy lifestyle, lose weight and keep diabetes at bay. You can learn more about healthy cooking, fitness, general nutrition and motivation by visiting the Healthy Lifestyle resource centers (found under the "Healthy Lifestyle" tab at the top of the site).

For more specific information or help, talk to your health care provider. The American Diabetes Association's National Call Center also offers live advice from 8:30 a.m. to 8 p.m. EST, Monday through Friday at 1-800-DIABETES or 1-800-342-2383.
Article created on: 6/28/2010